About us
The Film Finance Handbook and FundYourFilm.com has been created by filmmakers and film professsionals. We are 100% independent, and sustained by the film community. The bok began at the end of 1999 as an online guide to film funding on Netribution.co.uk and evolved since then into a series of books, and this site.

You could say creating this has been the ultimate act of procrastination. As a film student at Westminster in 1999, I got a summer job researching the film and TV industry for a business report. The work left me depressingly aware of how complex, interdependent and difficult film finance and sales really was, in a way that wasn't happening on my degree. I concluded that if I wanted to make a film I needed to understand this world better, and probably make money another way. So at the peak of the dotcom boom, amidst excitement about online distribution of films, and with VC money flowing freely to startups, I quit university with a friend to launch Netribution.
The site was largely driven by the question of how to fund a film, and how the Internet can help independent filmmakers in this new world. From the start, Netribution.co.uk contained a free film funding guide, partly based on Chris Chandler's excellent Lowdown guide for the BFI. It gradually got expanded - Stephen Salter updated it considerably - and Focal Press offered a book deal. In the end, after Netribution ran out of money and shut down in 2002, we decided to self publish with Shooting People, who funded and promoted the first edition - Get Your Film Funded - covering the UK ('the banana book'). In 2005 the book returned in partnership with Adam P Davies under Netribution and was updated a third time in 2007 as a global edition covering over 50 countries, in partnership with him, alongside writer James MacGregor and dozens of lawyers and writers around the world, with info on 50 regions.
As well as the data and theory element, the last edition had also researched emerging models, identifying the promise of crowdfunding, which had only been used for a few short films and one feature at that point. This gave me a taste for research, and aware of many new possibilities, since 2007 Netribution moved into a series of public funded R&D projects looking across film and technology. Firstly came Living Cinema (Tech Stragey Board) looking at pop-up cinema, alternative screenings and reactive visuals; then Valid.ac (Tech Strategy Board, on hold) looking at metadata and decentralised digital rights licensing; then BOP (Creative Scotland), looking at cinema-on-demand, second screen and playlisting. Most recently Netribution was tech partner and consultant on Scottish Documentary Institute's 2-year Virtuous Circle project, looking at audience engagement, CRM's and the vertically integrated 'micro-major'.
All this feeds back into insight for the next edition, as does the experience and process of selling and distributing our own book - and making more money this way than we would through a conventional publisher. I'm still trying to answer the original question - but I also want a job that - one day - will leave me enough free time to write and film for myself.
Nic Wistreich, editor & co-author

About Nic Wistreich, editor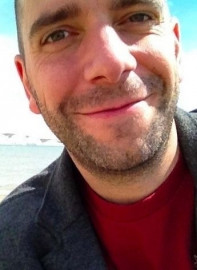 I'm a Yorkshire-born, aspiring-filmmaker turned writer (inc. BBC, The Times, Adbusters), web designer (inc. WAPCEPC, BAPCA, Satyajit Ray Foundation, Contemporary Films, FutureMyLove.com), researcher (MTI, Informa) and digital adviser (Scottish Documentary Institute, Film London). I've a passion for the social and cultural potential of networked technology, new content funding models and open source thinking. After running a theatre company with friends and touring the world premiere of Simon Armitage's first play to the Edinburgh fringe as a teenager (4 stars in the Scotsman!), at 19 I setup Netribution, a website for indie filmmaking (described as 'hugely popular and influential' by Time Out).
When Netribution ran out of cash, I became Shooting People's first employee, overseeing marketing and development from 2001-2003 as it become a sustainable subscription service. I also worked as UK Manager for FIlmFestivals.com, co-ordinator for part of the 2001 London Screenings, and had a short spell as a VJ, mashing up films to music at AV parties for Hewlett Packard, Publicis and Res in 2003/04. I've made seven short documentaries including Fish, Brit Hip Hop, Tag Theatre, with Ewan MacGregor, and a short fiction film, Creation. There's some more info at visuali.st or @netribution
The 2007/2008 Edition, first published May 2007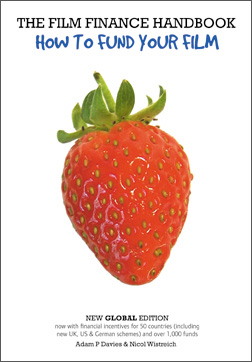 Written by Adam P Davies and Nicol Wistreich. Chapter 2 by James MacGregor. Further research by Catharine Allen and Hiu Wan Au-Yeung with additional interviews by Stephen Applebaum and Tom Fogg
Many thanks and acknowledgements to: Aisling Curran, Aly Lewin, Anna Yasmin Highet, Bernie Topper, Carl Kestens, Carlo Dusi, Caroline Hancock, Catharine Allen, Charles-Edouard Renault, Charlotta Denward, Chris Chandler, Chris Jones, Chris Locke, Claire MacMillan, Clare Playne, Cristian Conti, Daniele Cop, David Harris, David Tonna, Declan O'Neill, Dr Andreas Penser, Ed Parsons, Eelyn Lee, Einar Hansen Tómasson, Emmet Walsh, Eric Dubois, Francis Morgan Giles, Francois Gouliardon, Heather Mansfield, Herman Croux, Hiu Wan Au-Yeung Jan Dunn, Jan Ravelingien, Jan Ravelingien, Jenny Wistreich, Jeremy Stimpson, Jeremy Thomas, Jim Gilliam, Jodi Smith, Julia Giede, Ken Dhaliwal, Kieran Fairnington, Laurence Boyce, Leslie Lowes, Lindsay GIlmour, Linsey Denholm, Lloyd Chater, Luis A. Riefkohl Miranda, Lulu Black, Mario di Stefano, Mario Galavotti, Mark Playne, Markus Booms, Matt Hanson, Nicholas Reville, Nick Cain, Nils Klevjer Aas, Patrick Roe, Peter Mullan, Peter Thompson, Rachel Harris, Rebecca Greenfield, Roland Wigman, Sara Nordström, Sean Walsh, Sonja Hernicki, Stephen Salter, Sung Park, Susan Numan Baudais, Tamara Gregory, Tamas Cstak, Tina McFarling, Tom Fogg, Tom Selz, Stephen Applebaum, Wendy Bevan Mogg and Younes Jama as well as the various organisations and bodies who provided information the directory.